Matthew Jordon search: Divers check Windermere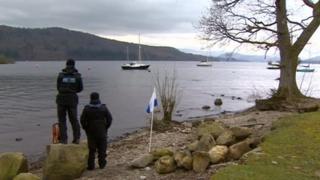 Divers have been assisting in the search for a student from Middlesbrough missing in the Lake District.
Matthew Jordan was last seen early on Thursday outside the Stag's Inn in Bowness. The 20-year-old had been visiting the area with friends.
Cumbria Police described his disappearance as "baffling".
A major search operation involving police and mountain rescue volunteers is taking place, and divers are now checking the edges of Windermere.
Family and friends have travelled to the area to join in with the search.
A family spokesman said that the last time they saw him he was his "usual happy self."
He added: "Matthew is a popular and kind young man. We are obviously very concerned and worried for him.
"It is so out of character for him not to have been in touch with anyone. We just want to hear from you Matthew."
Sgt Graeme McCreadie, from Cumbria Police, appealed for help from the public.
He said: "We are asking local people to check their sheds, garages, outbuildings or barns, any place that someone could have taken shelter.
"Even if there's no-one there, if there's any sign of someone having been there please let us know and we can check it out and hopefully find Matthew."