Supermarket plans for Ulverston brewery on hold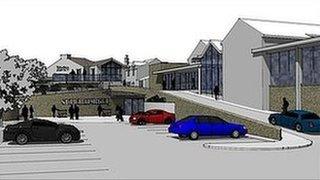 Plans to build a supermarket on a former brewery site in a south Cumbrian market town have been put on hold.
Campaigners opposing plans for the old Hartley's site in Ulverston have won the right for a judicial review into the planning permission.
South Lakeland District Council gave permission for development to the Frederic Robinson brewery.
But campaign group Keep Ulverston Special (Kus) said the site was too small.
The plans would involve demolishing much of the brewery site and building the 20,000 sq ft store, which would be rented out to a major supermarket chain.
'Trade sucked away'
A statement from Kus said: "We welcome the decision by the judge to allow the judicial review. Our heritage brewery site would be utterly destroyed with this development.
"Trade would be sucked away from our diverse and local town centre.
"Many shops would close as they wouldn't be able to withstand the diversion of trade from a supermarket."
No-one at Frederic Robinson's was available for comment.
But its website said the supermarket would provide a "modern" food store in the town centre so that shoppers could stay local.
The district council said in a statement: "Council officers remain confident that there are no grounds for setting aside the decision of the council's planning committee to grant planning permission."