Gatwick Express: Detached moulding forces train withdrawal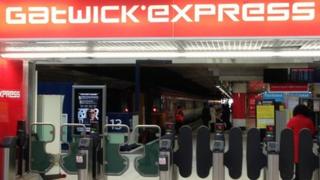 A Gatwick Express train came to a "juddering halt" and had to be taken out of service after part of its glass fibre moulding came away.
Southern Trains said a section of the valance at the front of the 07:44 GMT Brighton to London Victoria service came loose at Earlswood.
A number of passengers became alarmed when an announcement said: "The front part of my train is hanging off."
The comments were not meant to be taken literally, the operator said.
'Limped to Redhill'
Passenger Kev Heritage told the BBC: "The 7.44 Gatwick Express between Brighton and London Victoria came to a juddering halt outside Gatwick Airport after in the words of the train driver, 'The front of the train fell off'.
"The train limped to Redhill, but if this had happened at top speed, 100mph, it could have been a very different story."
A Southern Trains spokesman said: "There was an incident this morning when the 07:44 Brighton to Victoria stopped near Earlswood following reports of banging. The driver inspected the train and found that a small part of the train exterior had been damaged."
"A temporary fix was put into place and the train moved at a reduced speed to Redhill where the passengers left the train, which was taken out of service."