Gloucestershire pothole cyclist's family seek compensation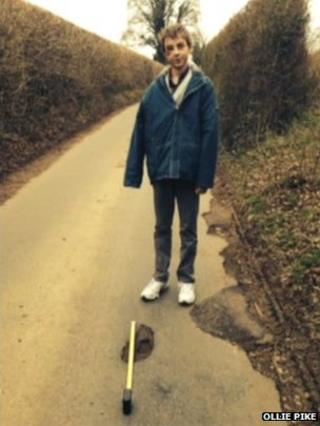 The parents of a teenage cyclist who ended up in hospital after riding over a pothole are seeking compensation.
Ollie Pike, 15, from Malmesbury in Wiltshire, broke his collarbone and smashed his head after being thrown from his bike during a charity ride.
He said he was avoiding one set of potholes, while riding near Cirencester, when he hit another and went straight over the handlebars.
The family is now seeking compensation from Gloucestershire County Council.
"I was going down the hill at quite a leisurely pace," said Ollie, remembering the crash on 9 March.
"There were potholes on the side of the road and as I was avoiding those I just hit another one and went straight over the handlebars, landed on my face, cracked my helmet."
"When I was on the floor waiting for the ambulance, I was scared because I couldn't see out of my right eye," he added.
"There was blood running down the road and I thought I'd done something to my eye, lost it or something like that."
His mother, Louise Pike, said: "I hope I never have to see any of my four children in that situation again. It was fairly horrific and is your worst nightmare."
Gloucestershire County Council said it was unable to comment on individual cases, but it does respond to reported potholes and scheduled inspections of the county's roads.