Tour de France: 12,000-strong UK volunteer force chosen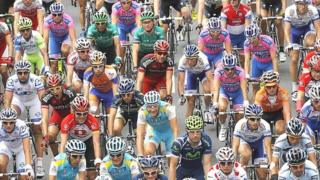 A 12,000-strong force of volunteers has been selected to help out during the UK stages of the Tour de France in July, race organisers have announced.
The Tour's Grand Depart takes place in Yorkshire on 5 and 6 July before the race moves to Cambridge and London.
The roles of the volunteer Tour Makers will be similar to those of the Games Makers at the London Olympics.
Over 20,000 people volunteered for the Yorkshire stages alone, tourist organisation Welcome to Yorkshire said.
'Atmosphere and buzz'
Gary Verity, Welcome to Yorkshire's chief executive, said the response to the call for Tour Makers had been "unbelievable".
"Whatever role a Tour Maker plays and wherever that is, they can say for years to come, 'I was there and I helped make it happen'," he added.
Volunteers' roles will include directing spectators to the race from railway and bus stations and acting as marshals along the race route.
They will also be expected to ensure the safety of riders by indicating hazards and obstacles as well as helping pedestrians to safely cross the race route.
Vijay Dayalji, 28, from Bradford, said being chosen was "amazing".
"I'm looking forward to meeting people, seeing the riders zoom past and being part of the atmosphere and the buzz."