Anastasia IV: How do you make hair strong enough to hang from?
By Laurence Cawley
BBC News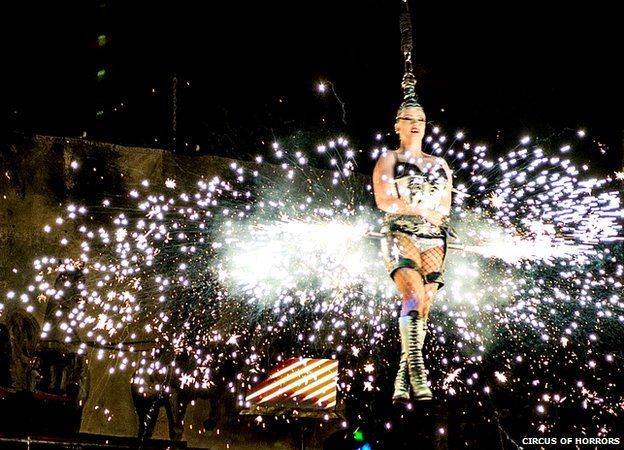 Joanna Sawicka holds the Guinness World Record for lifting the greatest weight with her hair. Her occupation is one in which split ends or excessively dry hair could result in a ripped scalp. So how do you care for such locks?
Ms Sawicka - or Anastasia IV as she is known on stage - gets through a lot of hair conditioner. Two bottles a day on average, says the Polish-born 26-year-old, who performs with the Circus of Horrors.
Her stage routine sees her hanging, spinning or swinging high in the air. However, she's not dangling from a special harness or cradle - she's hanging by her hair.
Either that, or she is strung up by her feet while upside down with heavy weights attached to her locks.
She is a modern master of "hair hanging" - a circus skill originally thought to have been performed in China by men.
After arriving in London to study biochemistry, she dropped everything and joined the circus after seeing a performance by the Circus of Horrors.
She began circus life as a side-show act, lying on beds of nails and the like, before opting for the more "spectacular" hair hanging.
"Running off with the circus was definitely a romantic thing for me," she says.
"Luckily for me, hair hanging is pretty recession-proof. And there are not many people queuing up to take my position. I am quite secure in my employment."
Her technique, she admits, is the result of "trial and error". The first few times she tried it, she said the experience was so painful she cried.
"It feels", she says, "just like you might imagine hanging from your hair would feel - a very immediate pulling sensation at the top of the head."
The pain, she is keen to assure people, does lessen into a dull sensation but it never disappears completely.
Her waist-length hair is her livelihood (she makes enough to live, "plus a bit extra", she says). And as such, not only is her hair insured against accidental damage to the tune of £1m but it is subjected to a daily hair care regime that would make the averagely vain weep.
When on tour both hair colourants and hair dryers are banned and visits to the hairdresser are filled with trepidation in case they cut too much off or damage her hair in any way.
Anastasia, who lives in London with her husband (and professional sword swallower) Hannibal Hellmurto, conditions her hair at least five times a day when on the road.
The first wad of conditioner goes on during the morning. The second is slapped on during the early afternoon, when the troupe arrives at the show venue.
As the night's show starts to loom, a third bout of conditioning begins. That conditioner is then washed out with the hair left wet so that it is stronger.
It remains wet during the show only to be conditioned once more immediately after the curtains draw.
This batch of conditioner is left in for about an hour to enrich the hair after the evening's exploits.
The fifth and final conditioning dollop goes in late at night, after the troupe reaches its hotel.
"It is a bit of a pain I must say," says Anastasia. "I use loads of conditioner and hair vitamins.
"Your life is ruled by what you do for a job. Mine is all about my hair.
"There's not much of the day when my hair does not have something on it."
If it is not being conditioned or used as a means of personal suspension, chances are Anastasia's hair is being brushed or carefully plaited into shape by her husband.
But this is not your run-of-the-mill brushing and plaiting. With each hair able to hold a weight of up to 3.5oz (100g), using each strand to maximum effect is the key factor in avoiding an intensely painful accident.
"The way I distribute the weight on my hair is very particular," she says.
"It takes about half an hour for me to brush my hair around evenly and then to find the point on my head on which all the hair is pulling at the same angle and with the same tension.
"Otherwise, any hair that is tangled-up or uneven will pull out, which makes it more painful.
"After that it takes about 45 minutes for two guys, including my husband to plait my hair like a rope."
It is a hair care regime which works. In fact, the issues Anastasia encounters are not with her hair, but in her neck and shoulders. She also suffers regular headaches and the occasional migraine while her three-month circus tours typically result in a toughened area at the top of her scalp.
"It definitely roughens up. I get a bump on the top of my head. I'm not entirely sure what it is," she says.
"It could just be a callus on the head, or perhaps the skin has been lifted up and it is fluid in between."
Describing hair hanging as "not something you want to do forever", Anastasia says she plans to do it for another "couple of years" and has not ruled out a return to biochemistry.
When you ask her if she has any grey hairs, she chuckles.
"No, none," she replies. "Perhaps that's because of all the conditioning."
And for the record, Anastasia has no split ends either.
Related Internet Links
The BBC is not responsible for the content of external sites.