Budget 2014: Chancellor's plan aims to change 'more ebb than fleet' housing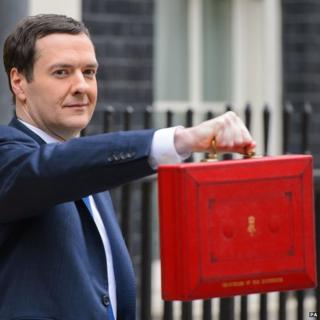 George Osborne had largely managed to keep this year's budget under his hat after last year's debacle when the Evening Standard ran most of its contents in advance.
The silence led most political journalists to assume that meant the chancellor was going to pull a big rabbit out of the hat - a giveaway no one was expecting.
Early on in his speech he alluded to this when he said: "If you're a maker, a doer or a saver, this budget is for you." More of that later.
The biggest announcement for the South East was one he'd already made on the BBC's Andrew Marr Show on Sunday when he pledged to build the first new garden city in almost 100 years in Ebbsfleet, in Kent.
Mr Osborne told MPs that the government was going to build new homes in the South East - where the pressure was the greatest - at Barking Riverside, regenerate Brent Cross, and construct the first new garden city since Welwyn Garden City was built in 1920.
He said the government would build 15,000 homes at Ebbsfleet, put the infrastructure in place, set up the development corporation - make it happen.
'Tremendous support'
It was a clear dig at Labour who criticised the plans as just a re-announcement of proposals they had to boost house building in Ebbsfleet.
Mr Osborne said Labour built less than 300 homes there in 10 years and quipped their policy was "more ebb than fleet", a joke which went down well on the government benches.
He thanked Dartford MP Gareth Johnson and Gravesham's representative Adam Holloway for their "tremendous support" for the scheme.
He also promised to publish a prospectus on the future of garden cities in just a matter of weeks. The Liberal Democrats have previously accused the Conservative Party of trying to suppress its publication.
There was also the announcement that the government would provide £42m, over five years, for an Alan Turing Institute. It will be set up in honour of the wartime codebreaker, who lived in Hastings, and was posthumously pardoned for his conviction for homosexuality.
Flood repair funding
It will be a national institution that will undertake new research in ways of collecting, organising and analysing large sets of data.
He also announced £140m of new funding for the repair and restoration of flood defences that have been damaged in the recent floods - that will be welcome in parts of Kent, like Yalding, which have been badly hit.
But, back to the rabbit. Mr Osborne announced that savers will be able to invest up to £15,000 of cash or shares per year into a new super Isa.
He also promised to help pensioners with a new savings bond for those aged 65 and over. These will be launched next January, and are expected to pay out interest of 2.8% over a year and 4% over three years.
His message for those hit by years of rock-bottom interest rates is the "government is on your side".
Fiscally neutral
There was some help for those at the lower end of the income scale too with the announcement that the personal tax allowance would be raised to £10,500 next year - providing a saving, on average, of £800.
Overall this budget is fiscally neutral. He didn't have much to give away but has tried to help pensioners and savers - some would say traditional Tory voters - while also lifting lower earners out of tax.
But the Labour leader Ed Miliband criticised Mr Osborne for not doing enough to raise peoples' living standards, having promised a stronger economy by now.
The key test will be if by this time next year he has more to give away, and whether people will feel better off just weeks before the 2015 general election.