East of England Ambulance Service loses non-emergency contract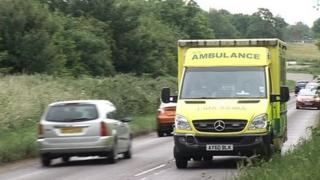 The East of England Ambulance Service Trust (EEAS) has lost its non-emergency services contract in Norfolk.
The EEAS had run the contract, which expires this year, for the past eight years.
But under the new system of clinical commissioning groups (CCG) buying in services, it was put out to tender and was won by ERS.
EEAS's head of non-emergency services Liz McEwan said it was too early to say whether there would be job losses.
She added: "We put in a strong bid to run this service, as we believe we're best placed to run patient transport and deliver quality services to patients.
'High quality service'
"However, unfortunately, we were not successful and are working with staff to ensure they are supported through the transition to the new provider."
The union Unison condemned the winning of the contract by a private firm.
Fraer Stevenson, branch secretary of East of England Ambulance branch, said staff were "devastated by the news", adding: "Many have worked for the NHS for a number of years - they are an integral part of our ambulance service."
"The trust provides a high quality service transporting vulnerable patients to and from hospital. Patients report a high level of satisfaction with the service they currently receive.
"I fear this will not be the case if these services are run by private providers who are primarily concerned with making profits for shareholders.
"The NHS is a public service, delivered and accountable to the public."
ERS, which is based in Leeds, said it would not comment until Monday.