DJ Mike Read named 'Hero to Animals' by Peta for Thames dog rescue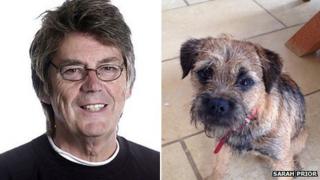 Radio presenter Mike Read has received a Hero to Animals Award from animal rights charity Peta after rescuing a dog from a river.
Border terrier Digby was being walked in Henley, Oxfordshire, in February when he fell in the River Thames
The former Radio One DJ was walking along the towpath and took a "rugby dive" to grab the dog from the water.
Peta's Yvonne Taylor said the "terrified" six-month-old dog "may have been within minutes of drowning".
She said the DJ remained "calm and determined" as he dived into the fast flowing waters on 27 February during a period of heavy rainfall and flooding.
She added: "Local heroes, such as Read... are willing to put their own safety on the line in order to protect all residents, whether on two legs or four."
Digby 'floating past'
Mr Read, who now works for BBC Radio Berkshire, said he "reacted on instinct" when he heard Digby's owner Sarah Prior calling out after she had seen her dog disappear into the water while trying to chase some ducks.
"He came floating past just with his nose out of the water.
"I got hold of his head and got him up.
"You think 'in five seconds that dog is going to be 20 yards downstream'."
He added that after the rescue, he had "hosed [himself] down" at a nearby boatyard before continuing into town.
Digby's owner Sarah Prior said the DJ had been "absolutely lovely" and that Digby had been "none the worse for wear" for the experience.
Peta is a UK-based charity dedicated to establishing and protecting the rights of all animals.