Anger over Norfolk/Suffolk police control room merger plan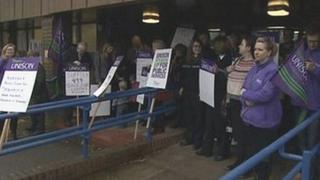 The Suffolk police and crime commissioner (PCC) has hit out at the publication of a business case for a joint Suffolk/Norfolk control room.
The plan would see emergency calls from both counties answered at Norfolk Police's Wymondham headquarters.
PCC Tim Passmore said the report, published on the Norfolk PCC's website, was "fundamentally flawed".
Norfolk PCC Stephen Bett has backed the merger, in an attempt to save the forces £1.8m in principle.
About 70 jobs could go if the merger took place.
Mr Passmore told the BBC that he would not have published the report because of its defects.
"Our chief financial officer has said he is not impressed with the business case," he said.
Mr Passmore asked for both forces to look again at the case and said it was vital to consult the public.
He has started a consultation exercise on the Suffolk PCC website as well as arranging public meetings.
"This is a big decision and I'm not going to be pushed around by other people. I only want to do what is best for Suffolk," said Mr Passmore.
The report produced by a joint Norfolk and Suffolk team, which included assistant chief constables from both counties, said there was a clear business case for having the joint control room in Wymondham.
The report says the joint control room will save Norfolk £973,918 and save Suffolk £870,567.
It adds that Norfolk Police needs to find an additional £20.3m of savings by March 2018.
Mr Bett said: "The reason we are having these discussions is the dire financial state we find ourselves in.
"Norfolk and Suffolk constabularies face a combined funding gap over the next four years of £36m.
"Both chief constables have come forward with a business case for a single contact control room (CCR) in Norfolk.
"This is not about Norfolk versus Suffolk or one county telling the other what to do. In fact it is quite the opposite.
"It is about moving further down the road of joint collaboration in the best interests of both forces and both counties."