Pets' ashes stolen by Warwickshire van thieves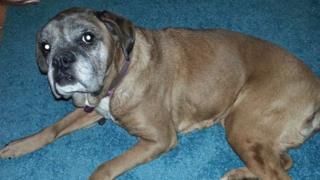 The remains of 16 pets have been stolen as thieves took a van owned by a pet crematorium from outside a house in Warwickshire.
Pet owners said they were desperate to track down the ashes and appealed for them to be returned after the van was stolen from the Newbold area of Rugby on 9 March.
The ashes are thought to belong to pets put down at vets across the Midlands.
Mandy Hall is one of the owners and said she was "absolutely distraught".
"It's my first dog. I've had her since she was six weeks old and she would have been 12 now.
"I haven't even told the kids yet what has happened to the ashes, they'd be heartbroken."
'In tears'
Ms Hall, from Kettering, said her boxer dog Daisy was put down by vets in the town in February and that she had been waiting for the ashes to be returned.
"The first I heard about what happened was on Friday, when the vets phoned and told me what had happened.
"The practice manager was in tears."
Vets4Pets in Kettering said three of its clients' pets were believed to have been in the cremation service's van when it was stolen.
Some of the pet owners have launched a Facebook page, appealing for the van thieves to return the ashes.
One of those behind the Facebook page Hazel Senior said the ashes were due to be delivered to vets on 10 March.
Ms Hall said: "The thieves probably don't know what the boxes are, they certainly won't want them.
"I can only hope that they're on the side of a road somewhere and they turn up.
"It was a difficult enough decision to put Daisy to sleep. It was heart-breaking, but now it's become horrific."