Red Arrows announce anniversary tour dates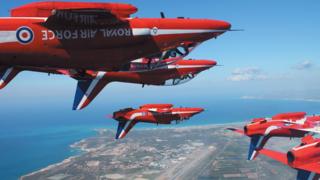 The Red Arrows have announced details of their tour programme for their 50th display season.
The team will also have a new tailfin design to mark the anniversary.
It features a Union flag, outlines of their Hawk aircraft, and outlines of the Gnat jet previously used by the aerobatic display team.
The programme includes 85 displays in nine different countries, including Spain, France and Belgium.
Highlights in the UK include appearing at a D-Day commemoration event in Portsmouth and a performance on home ground at the Waddington International Airshow.
The Reds will also perform at the Isle of Man TT and the British Formula One Grand Prix at Silverstone.
The Red Arrows team was founded in 1965 at RAF Fairford in Gloucestershire, where a major celebration is also planned at the 2014 Royal International Air Tattoo.
Since forming the team has performed more than 4,500 displays in 55 different countries, including a recent first time display in Kuwait.
Squadron Leader Jim Turner said: "We hope to entertain the public with the programme this year and hope the quality of the display lives up to the finest traditions of past teams."
"Ever since their first performance, the Red Arrows have promoted the excellence of the Royal Air Force and its skilled, well-trained people," he added.
Two Scots, Flt Lt Stewart Campbell and Flt Lt Joe Hourston, from the Borders and the Highlands, are the team's newest members.
Flt Lt Hourston, who served in Afghanistan, said: "The 50th display season in 2014 makes this a particularly special time to arrive.
"Since day one of deciding to be a pilot I've always wanted to be a member of the team because of what it represents and the variety and challenge of the flying itself.
"It's wonderful to be part of this team and, in turn, help inspire people to consider a career in the armed forces and also promote UK plc."
On completion of a three-year tour with the Red Arrows, the pilots either return to the frontline, instructional or staff duties.