Businessman in drive to cut north's youth unemployment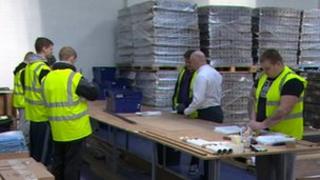 Bill Marley has spent more than 30 years working in manufacturing.
But his latest venture is less about making money and more about changing lives.
Two years ago the County Durham businessman bought a derelict factory in Peterlee, and he's using it to help the area's young people find work.
It all started when he began encountering some of the area's deprived young people.
He said: "I saw so many people on Job Centre Plus that had thrown in the towel basically. They were stuck in the benefits system unable to get out with no confidence in themselves.
"I wanted to show these youngsters and their parents that there is another life out there and they can go on a journey and see what manufacturing can offer them."
He formed the Employability Trust - the charity which runs the factory and is trying to rescue young people from the dole queue.
At the factory his young charges work on genuine contracts for the likes of B&Q and WHSmith. Many start working for nothing - but what they get is vital experience.
Bill Marley says it differs from conventional training centres which he believes focus too much on qualifications and too little on the basics of getting people used to the world of work
He said: "You can have bags of skills and qualifications but if you do not walk through that door every day they are pointless.
"Because we've had these young people for at least eight weeks we can tell employers - hand on heart - that they will turn up for work every day."
Wage subsidy
That approach differs from some of the ideas that have come from politicians.
Under the government's Youth Contract, work experience plays a part, but so does a wage subsidy with employers offered up to £2,275 to take on a young person who's been unemployed for more than six months.
Labour's proposed jobs guarantee will also pitch young people straight into a six-month job paid for by the taxpayer, with employers offered £500 to train each person they take on.
But Bill Marley is concerned that paying employers to take people on might not be the best long term solution to the North East's youth unemployment problem.
He said: "If you pluck someone from off the street or from the Job Centre and put them straight into work that is a recipe for disaster.
"They are green, they have no experience, they may never have been into a factory in their lives. Industry are going to be given these people for free in some cases, but it could prove to be very costly."
And the Employability Trust approach of providing an introduction to the workplace does seem to be delivering. It's early days, but of the 20 people referred to the factory by the Job Centre, 17 now have full-time jobs.
Melissa Hammond was one of the first people Bill Marley helped. She became an apprentice at his factory and is now on a contract with a nearby electronics firm.
She said: "I do not want to ever go on the dole and not be able to have my own money in my pocket and rely on other people. Now I can pay for driving lessons and a test, get a car, and have my freedom."
Kyle Wilkinson also started on an eight-week placement but is now working full-time at Bill Marley's factory helping other young people.
He said: "I was applying for about 20 jobs a day and getting nowhere so when the Job Centre sent me to the Trust I was over the moon that I was going somewhere in life. It's helped me loads."
Work ethic
Employers have been impressed too.
Dave Travers runs a warehousing company and has had help from some of Bill Marley's recruits.
He said: "They have not been told what to do, everything has come from their own initiative. We have been extremely impressed with the attitude, the work ethic, and the enthusiasm of the young people Bill's producing."
So the Trust is making a difference, but more than 50,000 under-25s in the North East remain on the dole queue - that's one in four of that age group.
Bill Marley's young recruits have come forward voluntarily. Nobody is forced to come to the factory.
It's not clear whether it could help young people who don't have as much get up and go.
But he is convinced his model is one the politicians should take seriously - not least because he's achieving it without regular funding from the taxpayer.
He's been helped from donations of equipment from contacts in industry but has also made the factory self-financing by winning contracts for genuine work.
And with the British Chambers of Commerce calling for action in the Budget to help young people off benefits and into work, there is still pressure on politicians to prevent a generation of young people becoming unemployable.