Suffolk Christmas Eve horse crash death owner jailed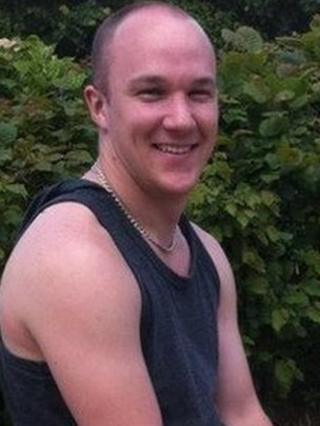 A man whose horses wandered on to a main road on Christmas Eve, causing the death of a driver when four vehicles ploughed into them, has been jailed.
Five horses owned by Stacy Humphrys, from Ipswich, got on to the A14 at Sproughton in Suffolk in December 2012.
Three horses were killed and Thomas Allen, 23, of Soham, Cambridgeshire, died of his injuries on Christmas Day.
Humphrys, 27, admitted causing a public nuisance and was jailed for two years and four months at Ipswich Crown Court.
The crash happened at about 22:00 GMT and Humphrys, of West Meadows, Ipswich, arrived at the scene shortly afterwards and said he owned the horses.
Huntley victim's cousin
The court was told Humphrys had failed to ensure that his horses were kept secure over a prolonged period.
He had allowed them to graze and wander on land in the Sproughton area and, as a result, they were not prevented from getting on to the A14.
After sentencing, Sgt Bob Patterson from Suffolk Police, said: "This was a truly horrific collision which resulted in the loss of a young man's life.
"It was compounded by the fact that a family lost their loved one on Christmas Day."
Mr Allen's family said in a statement: "Our loss is just as strong as it was on Christmas Day 2012. Nothing can take away the total devastation and pain we feel.
"This accident should never have happened. Tom was not doing anything wrong, he was just travelling home to his family for Christmas and sadly he never arrived."
The court heard Mr Allen's death was not the first tragedy for the family as his mother Lesley was the sister of Nicola Wells, whose daughter Holly, was murdered by Soham school caretaker Ian Huntley in 2002.
Judge John Devaux said: "This is the second time Thomas Allen's family have been affected by a grave tragedy."