Call for 'fairer deal' for Kent commuters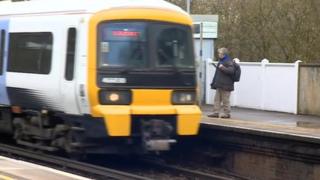 The leader of Kent County Council is calling on MPs to back a campaign for a "fairer deal for commuters".
Paul Carter said commuters into London paid 10% above those from other counties, putting people off moving to East Kent regeneration areas.
"The vast majority are paying a lot less than we do for a faster, more reliable service," he said.
The Department for Transport (DfT) said it protected commuters by regulating average season ticket increases.
Mr Carter has written to MPs asking them to lobby the government.
The letter says a commuter from Sevenoaks pays £228 or 8% per year more for a shorter journey on a slower train than a commuter from Woking, Surrey.
A commuter from Tunbridge Wells pays £528 or 14% per year more than a commuter from Aylesbury, Buckinghamshire, it says.
Conservative MP for Thanet, Sir Roger Gale, said the government set a cap on average fare increases but did not control fares on individual lines.
"There has been a disproportionate increase in fares to the Kent coast year on year on year," he said.
"It has got to the point now where it is a deterrent to people moving in and regenerating East Kent.
"If we are going to supply the houses that people need to live in in the South East people have got to be able to get to work."
'Government policy'
A spokesman for the DfT said the government was already protecting commuters by regulating average increases in the price of season tickets.
"This year, for first time in a decade, regulated fares did not rise on average by more than the rate of inflation," he said.
A Southeastern spokeswoman said the government was responsible for setting policy on fares and it determines the annual increase in season ticket prices.
"It is government policy to shift the cost of running the railway from taxpayers to rail users and a large proportion of season ticket holders' money ends up covering the cost of maintaining tracks and other infrastructure," she said.