Kevin Roberts dies in secure Reaside Hospital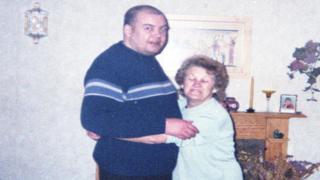 A man who beat his mother to death with a hammer and poker has died of natural causes in a secure hospital.
Kevin Roberts was detained indefinitely in 2006 after admitting the manslaughter of Vera Roberts
His daughter, Faye Howlett, from Shropshire, had started a petition to keep him locked up after she learned he had been given unsupervised leave.
Reaside Hospital, in Birmingham, confirmed Mr Roberts had died.
Ms Howlett said she had "mixed emotions" after learning Roberts died on Sunday.
Last year, Ms Howlett discovered her father had been leaving the clinic when she found a teddy bear with "Mum" on it on her grandmother's grave.
She said: "I didn't even know my dad had cancer. I believe he died in the early hours of Sunday from lung cancer.
"I'm relieved I don't have to be frightened any more. But as much as I wanted him locked up, it is still a shock."
She added her petition to prevent her father's release had attracted 10,000 signatures.