Hastings line closure could affect tourism, council warns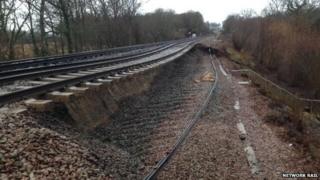 Continuing delays in opening a train line linking East Sussex, Kent and London could have a "serious effect" on tourism, a council leader has warned.
Councillor Jeremy Birch, leader of Hastings Borough Council said no-one wanting to visit the seaside town would travel on a bus replacement service.
The line was first affected by a series of landslips in December and was due to reopen on 3 March.
Network Rail said it would not be commenting at this stage.
In a letter to Network Rail, Mr Birch said: "Quite frankly this is not acceptable."
'Buses to the seaside'
He wrote: "It is hard enough on local residents who commute to London, or who need to use the line for other trips, business and pleasure, but Easter will be upon us shortly, and we will then be into the summer season.
"No-one wanting a day trip to the seaside will choose to travel on a rail replacement bus service, and the continued closure of the line could have a potentially serious effect on our visitor economy."
He said there had not been a full train service on the line since before Christmas.
Part of the Hastings to London line used by Southeastern was first closed because of landslips on 17 December.
More than 10,000 tonnes of stone were used for the repairs at Stonegate on the line between Hastings and Tunbridge Wells.
Southeastern first announced the line would fully reopen on 3 March, but with a reduced timetable.
However, more rain caused further landslides around Whatlington, which meant buses had to continue to replace trains between Battle and Wadhurst.
Mr Birch said: "For a main line to be closed indefinitely with no firm date set for its reopening is just not good enough. Our town, our residents and our visitors deserve better."