Bristol rowers adrift in ocean end 96-day Atlantic race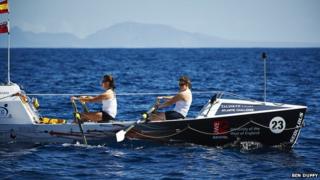 Two Bristol students who tackled a gruelling transatlantic rowing race have retired from the competition after more than three months at sea.
Hannah Lawton and Lauren Morton have been plagued by problems since they set out on the 3,000-mile (4,828km) challenge on 2 December.
They entered the Talisker Whisky Atlantic Challenge in memory of a friend who died of cervical cancer.
After 96 days they announced "with a heavy heart" they were retiring.
The decision was made at 00:30 GMT on Tuesday when the women were 658 nautical miles from Antigua.
'Overwhelmed by support'
University of West England students Miss Morton, from Wetherby, West Yorkshire, and Miss Lawton, from Stoke-on-Trent, had vowed to finish the endurance race despite being weeks behind the leaders.
But in a statement the pair, known as Team Inspirational Friends, said they had spent the last month trying to make "rudder fix after rudder fix" and nothing had worked.
"Rowing an ocean wasn't ever going to be easy, we knew that things could go wrong, and be out of our control. Safe to say we've had a few of these instances," they said.
"Both of us have been amazed and overwhelmed by all of the support back home and really can't thank everyone enough."
The women have seen their satellite navigation break down, a battery burn a hole in the middle of their charts and a full 360-degree capsize - during which Miss Morton said she "split my head open".
They started the race from La Gomera in the Canary Islands in December alongside 16 teams.
The winning boats reached Antigua on 15 January. The women's retirement now brings the race to its end.
Carsten Heron-Olsen, chief executive of organisers Atlantic Campaigns, said: "Our Atlantic queens have been shining examples of the determination, courage and pure resolve that is needed to conquer the Atlantic Ocean.
"Inspirational Friends are now safely on board a bulk vessel and on their way to dry land to be greeted by their families and friends."
They took part in the contest to raise money for Myton Hospice and Jo's Cervical Cancer Trust, in memory of their friend Eleanor Rose Ellis who died of cervical cancer aged 23.