Talks over scheme to protect Thames floodplain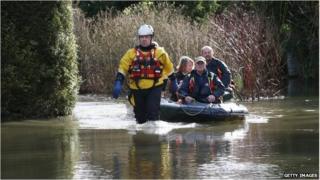 Work to protect the "largest undefended floodplain in England" could begin within three years, a report has said.
The Environment Agency, Defra, and seven Surrey, Berkshire and London councils are working to protect 20,000 properties on the River Thames.
Surrey councillors will discuss details of the scheme on Thursday.
The scheme was first proposed in 2003 after floods hit the area, but funding remained an issue, the Environment Agency said.
The report to Surrey's environment and transport committee said the cost of the scheme had been provisionally estimated at £256m.
There was a potential contribution of £136m from Defra, and an expectation that the rest of the funds should be found locally, it added.
'Large-scale engineering'
Between December and February, Surrey faced multiple severe flood warnings with about 1,000 people evacuated from their homes and internal property flooding recorded at about 20 sites in the county, it said.
Under the plans, large-scale engineering work would be carried out to build a flood channel and improve three Thames weirs, along with smaller schemes to provide local defences and improve flood response plans.
The report said the aim was to start work on the weirs within three years, and construction of the channel within six years.
The Environment Agency said the River Thames Scheme was first proposed in 2003 after floods hit the area. Since then, officers had been working to find partnership funding.
"It's a huge scheme and it's very expensive, hence funding issues are still there," a spokeswoman said.
The agency's River Thames Scheme website said the floodplain included 20,000 properties and critical infrastructure including junctions of the M25, rail links, and water and electricity supplies.
It estimated that damages from a major flood could exceed £850m.