World War One soldier's flower album auctioned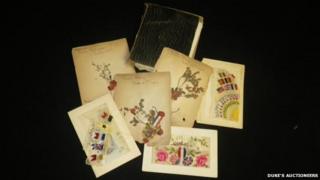 An album filled with pressed flowers collected by a soldier serving on the front line during World War One has sold at auction in Dorset for £1,200.
The palm-sized album, which also contains poems, was rescued from a skip 40 years ago by a removal man during a house clearance in Gosport, Hampshire.
The flowers, which include heathers and ivy, were collected by "Bert" during his travels through Europe.
It is thought the album may have belonged to his sweetheart.
Amy Brenan, from Duke's Auctioneers in Dorchester, where the item was sold, described it as "a marvellous record of one soldier's travels"
Each flower was attached to a page in the album with melted sealing wax and annotated with the place and date of where it was picked.
The locations range from "Souvenir from Italy February 10th" to "A souvenir from France March 11th 1918, 11 miles outside Arras".
Ms Brenan said it was likely the album had been put together as a gift.
She said: "Most of the pages are labelled 'From Bert' so perhaps he was compiling the album for his sweetheart back home?
"Despite the distance, he was clearly relying on thoughts of his loved ones to keep him going, sending them flowers from the frontline perhaps helped him to gloss over the horrors facing him everyday."
She added World War One memorabilia was seeing a rise in interest due to the centenary year marking the outbreak of war.