Storm-hit Dawlish: Where could a second rail line run?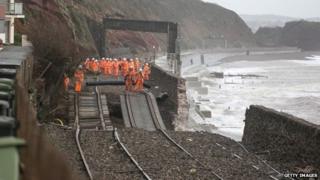 The winter weather has severely damaged the South West's rail network and it is now almost eight weeks since a train from the rest of England reached Newton Abbot, Plymouth or Cornwall.
First there were repairs to the Whiteball tunnel, between Taunton and Tiverton, and then storms in February destroyed the main line at Dawlish in Devon.
The Whiteball tunnel has opened again and the Dawlish line should reopen in early April.
But at the same time as mending the track, Network Rail has been looking at three options for a possible secondary route into the South West.
They all involve going back to old railway maps or reinstating former lines.
Dartmoor route
One of the most talked about is the route north of Dartmoor which was closed in the 1960s.
If it was rebuilt, trains to London would leave Plymouth and travel to Bere Alston on the Gunnislake line, where there are already plans to link to Tavistock.
More track would have to be relaid to Okehampton but there are relatively few properties on the 15-mile stretch. From Okehampton, the trains could run on the current freight line which leads to Exeter,
Colin Rogers, who owns the old Tavistock station - a mixture of holiday cottages and private homes - said property owners were concerned about how much compensation they would get.
He said a property sale had fallen through because of the possibility of the line reopening.
Conservative councillor Kevin Ball, said: "If you look at a map there is a big blank area where there is no railway line.
"I think this is a genuinely strong candidate for an alternative route."
Teign Valley route
Another option is reopening an old single-track passenger route along the Teign Valley, which was closed in the 1950s.
Trains to London would go north from Newton Abbot on a little-used freight line and then wind their way along relaid track up the Teign Valley, via Chudleigh and Christow, to join another section of freight line to the south of Exeter.
However, some experts doubt this would happen and at least one tunnel on the old route has been blocked off for decades after an internal collapse.
Jonathan Roberts, a leading transport consultant, told BBC News: "The Teign Valley route is of limited benefit other than just as a diversionary route when the Dawlish sea wall line isn't available.
"It would have some commuter benefits but its journey time capabilities are very restricted."
Lord Berkeley, chairman of the Rail Freight Organisation, said: "The problem is that it's got severe gradients, I'm told, and it's quite curvaceous… I would call it a second or third-rate solution."
Dawlish internal route
One much-discussed route is a line that was proposed in the 1930s but was never actually built.
Trains to London would leave Newton Abbot and then veer inland on a newly-built track to pass north of Teignmouth and Dawlish.
Three variations are being talked about, one that rejoins the current line at Dawlish Warren, one north of Starcross and another at Exminster. All the options would require extensive tunnelling.
Neill Mitchell, transport analyst, said: "This was an extremely well-surveyed and planned inland route.
"There are all the engineering drawings ready to be activated at a moment's notice. It's a fabulous solution."
A discussion paper has estimated the cost of implementing this solution could amount to between £0.5bn and £1bn.
Consultant Jonathan Roberts said: "[It's] a big ask, a long-term ask because it will take 10-15 years to achieve, but potentially [this] then gives significant journey time savings."
Network Rail said all reasonable suggestions would be looked at and a shortlist of options for more detailed study would be produced in the summer.