East Midlands Airport plans to serve 10m passengers by 2030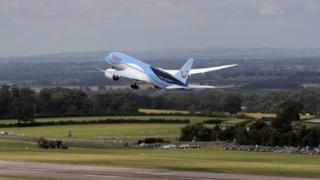 East Midlands Airport plans to grow to serve 10 million people and handle 1.2m tonnes of cargo by 2030.
The airport, which is the largest pure cargo airport in the UK, currently serves about four million passengers and handles 300,000 tonnes of freight each year.
The Sustainable Development Plan includes doubling the number of jobs on site to 14,000.
Residents are now being asked for input as part of a 12-week consultation.
Neil Robinson, from airport owners the Manchester Airports Group, said: "After one of the worst recessions in 100 years, we are now entering an exciting time for the airport and it is important that we report on and update the commitments we have made.
"It's paramount that we engage with our stakeholders on this and we're keen to get out and talk to people face to face."
There are no plans for a second runway at the airport, but in 2011 North West Leicestershire District Council granted planning permission for the construction of a 190m (625ft) extension to the runway, which would increase its current length to 3,083m (10,114ft).
Under the plans the passenger terminal could more than double in size.
It would be developed on land to the south and west of the existing terminal, which is currently used for passenger parking.
The airport currently serves more than 90 destinations, including long haul locations such as Cancun and Florida.