Bolton rally calls for compulsory sex education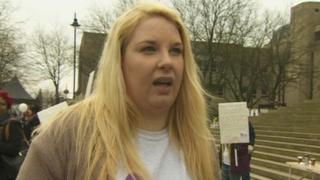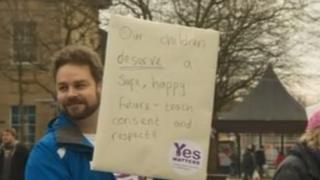 A rally to raise support for mandatory sex education in schools has been held in Greater Manchester organised by the sister of a girl murdered in Blackpool.
Gemma Aitchison, who founded YES Matters after her sister Sasha Marsden was murdered, led the rally through Bolton town centre.
The group wants compulsory sex education to include lessons in consent and online safety.
"Our children deserve to be safe and happy," Ms Aitchison said.
'Highly sexualised society'
"In our highly sexualised society, children are exposed at a much earlier age to messages about sexuality and relationships, including objectifying messages that have the effect of normalising sexual assault and victim-blaming culture.
"Children deserve to be taught about healthy, consensual relationships."
In September, Ms Aitchison met Labour leader Ed Miliband to urge him to tackle sexist and violent attitudes towards women.
She enlisted the leader of the opposition in her campaign to help change the way women are portrayed in the media and advertising.
Her 16-year-old sister Sasha was stabbed 58 times by David Minto from Blackpool, on 31 January 2013. He was jailed for life in July.
In what was a sexually-motivated attack, Minto dumped her body in an alley before setting fire to it.
On sentencing, Judge Anthony Russell QC, described it as a "ferocious and sustained attack".