Gloucester Royal Mail sorting office closes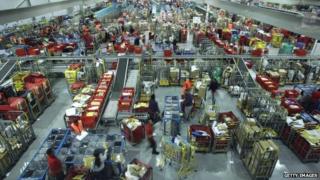 More than 100 Royal Mail workers will leave Gloucester's sorting office for the last time later as its operation comes to an end.
The closure follows a review of the site that was prompted by a fall in the amount of post it processes.
All post sent to GL postcodes will now be processed near Bristol.
Royal Mail said there had been no compulsory job losses but about 120 workers at the Eastern Avenue site had opted for voluntary redundancy.
'Sad faces'
Out of 380 workers at the site, 260 remained with Royal Mail but have moved to work at other sites, including the Bristol Mail Centre in Filton.
Ian Trehearne, branch secretary of the Communication Workers Union, said there would be "sad faces" after the last shift.
"There's a lot of people reminiscing about the place and a lot of people have worked here for a long time - some for 20 years," he said.
The Gloucester mail centre was advertised for sale last May and a buyer is yet to be found.
Royal Mail said previously that a huge growth in electronic communications had reduced volumes of traditional mail, with 58 million items now being delivered per day compared with 84 million items several years ago.