The football club owners who fell from grace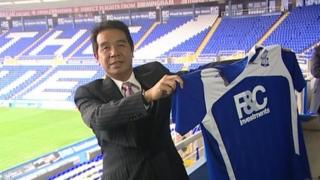 Birmingham City owner Carson Yeung has been jailed in Hong Kong after he was convicted of money laundering.
But he is not the first person to have become embroiled in a high-profile scandal while at the helm of an English football club.
Here, the BBC looks at three more examples.
Thaksin Shinawatra
The billionaire Thai politician bought an £81.6m controlling share in Manchester City in 2007 - despite facing trial on corruption charges in his native country.
There were doubts over his ability to honour the financial commitment, which came less than a month after a Thai court froze $1.4bn (£910m) of his assets.
Human rights groups were also quick to criticise the purchase of Manchester City by Shinawatra, who had been ousted as prime minister in a military coup a year earlier.
'Inappropriate association'
The telecoms magnate returned to Thailand towards the end of 2007 - and was put on trial alongside his wife.
He was handed a two-year sentence by the courts, leading him to go on the run from the authorities. Despite this, he remained on the club's board.
In late August 2008 he pledged his dedication to City, but just days later it was reported he had agreed to sell his stake to a Middle East company.
By February 2009 Manchester City had dismissed Shinawatra as honorary club president after its new owners deemed it "inappropriate" for their association to continue.
He divorced his wife and remains in self-imposed exile in Dubai.
Owen Oyston
Tycoon Owen Oyston became owner of Blackpool FC in May 1988 after selling his chain of family-owned estate agents.
The wealthy businessman - who also had interests in commercial radio and publishing - pledged to transform the struggling club into a top-flight team.
But in 1996 he was jailed for raping a 16-year-old girl at his Claughton Hall country home in Lancashire. He maintained he had been the victim of a smear campaign, but was unsuccessful in appealing against his conviction.
'Biggest salary'
His wife Vicki took over as club chairman until she was succeeded by son Karl in 1999.
Oyston was released after serving half his sentence, and continued to run his businesses. He remained Blackpool's majority shareholder but did not make a public appearance at the club until 2002, when two new stands were opened.
There was further controversy in 2012 after an £11m payout from the club to a company owned by Oyston was uncovered. It was the highest salary payment ever awarded to a football executive.
Karl Oyston defended the payment and said his father had invested many millions in Blackpool FC over 25 years.
Freddy Shepherd
Although not involved in corruption or criminality, Newcastle United chairman Freddy Shepherd and deputy Douglas Hall were forced to step down after a News of the World sting - dubbed "Toongate".
Investigative reporter Mazher Mahmood, known as the "fake sheikh", caught the pair on tape making disparaging remarks about the club's female fans and star striker Alan Shearer.
The pair referred to female supporters as "dogs" and called Shearer a "Mary Poppins" character.
Quit threats
Their comments prompted a furious reaction from fans and fellow board members, who urged them to resign.
Both Shepherd and Hall stepped down in 1998 amid threats from other directors to quit if they refused to go.
But the pair, who retained controlling shares in the club, used their influence to return to the board. Shepherd went on to become Newcastle United plc chairman.
He stepped down in July 2007 after suffering poor health, selling his shares to billionaire sports retailer Mike Ashley.