Brighton politician Purna Sen targeted by abusive troll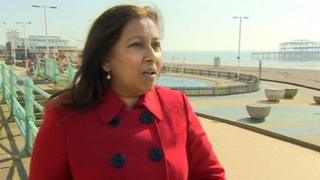 A female politician who plans to stand for election in Brighton, has been subjected to abuse online.
Sussex Police are investigating abusive tweets sent to Dr Purna Sen, Labour's parliamentary candidate for Brighton Pavilion.
Dr Sen said: "You expect it but still you feel 'Oh my goodness... is this still going on?'."
She said she had taken steps to block the user who has targeted other politicians and celebrities.
'Hurt and pain'
The internet troll told Dr Sen, who is of South Asian heritage, she should go back to "her own country" and questioned her right to live in the UK.
"When you put your head above the parapet and you go into public life in some ways you expect to be abused, you expect some people to attack you and as a brown-skinned person and an immigrant I know that's going to be part of what I'll face but it doesn't make it nice," Dr Sen said.
"It doesn't make it pleasant."
She added: "The harm, the hurt, the pain it causes shouldn't be belittled at all. I wouldn't advocate that anybody accept this sort of abuse."
A spokesman for Sussex Police said: "This is still being investigated and we have been liaising with Dr Purna Sen and have offered her victim support.
"We are aware of how distressing this has been and we take all reports seriously."
He added: "Internet trolls often operate under false names or operate under the names of other internet users to evade being caught.
"In order for a successful prosecution to take place we need to gather as much evidence to prove who the offender is."