Prolific golf club burglars jailed for raids on 17 counties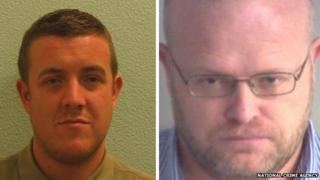 Two burglars who stole up to £750,000 worth of equipment from golf clubs across England have been jailed.
Daniel Lloyd and Joe McCaughey were found guilty of conspiracy to burgle following a trial.
Lloyd, 43, of Holwood Estate, Keston, was jailed for five years. McCaughey, 26, of King Henry's Drive, New Addington, received three years.
Birmingham Crown Court heard they posed as golfers and accessed changing rooms to steal equipment, shoes and clothing.
They targeted golf clubs in Cheshire, Cleveland, Cumbria, Derbyshire, Devon, Durham, Greater Manchester, Kent, Lancashire, Merseyside, North and South Yorkshire, Northumbria, Nottinghamshire, Somerset, Suffolk and Wiltshire.
An investigation by the National Crime Agency found the duo, who appeared on BBC Crimewatch in 2010, stole equipment from hundreds of golfers which they disposed of in the UK and overseas.
The duo moved around clubhouses between 2008 and 2009 dressed in golf attire, chatting to other golfers and duping members of staff.
Although evidence relating to 36 burglaries was used during the trial, officers believe Lloyd and McCaughey could have raided up to a 1,000 lockers and stolen equipment worth more than £750,000.
Steve Baldwin, NCA head of regional investigations, said: "These men were professional burglars who tried to mask their identities by avoiding CCTV cameras, changing their clothes to enter the same clubs over and over again, and using false number plates on their vehicles."