John Constable pencil drawings make £187,000 at auction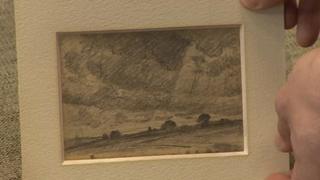 A collection of previously unknown drawings by the Suffolk artist John Constable, found in a house in Norfolk, have sold for £187,000 at auction.
The seven works, and an eighth by his son Lionel, were bought in 1952 for £500, but went unnoticed until the owners decided to move house.
They were authenticated by fine art auctioneers Cheffins in Cambridge, who valued the collection at up to £60,000.
The drawings sold for three times that to a number of anonymous buyers.
They had initially been valued at between £4,000 and £12,000 each by an expert at the Cambridge auction house.
The seven Constable drawings eventually sold for between £9,000 and £44,000 each.
His son's drawing fetched £2,000.
The most expensive lot, Storm Clouds, an 8cm by 12cm (3ins by 5ins) drawing had an estimate of between £6,000 and £8,000.
It is believed to date from between 1815 and 1818 and is thought to show a view near East Bergholt in Suffolk.
Constable's picture of a Heavy Horse at rest beside a plough, estimated at the same value, sold for £42,000.
It is believed Constable drew it while on his honeymoon with his wife, Maria.
Auctioneer Jonathan Law, said: " It's been massively exciting. It's gorgeous when you get a collection like this and then it goes so well."
He described the pre-sale interest as "incredible and from the right people".
"On top of that, there are the private buyers and collectors like one of the ladies - who has loved Constable since she was 20 - and I'm not sure how old she is now, but for all her time she's wanted to collect a little sketch.
"It's an attainable value, as opposed to buying the oils which are many millions," he added.