Hastings to Tonbridge trains: £50 M&S vouchers for disruption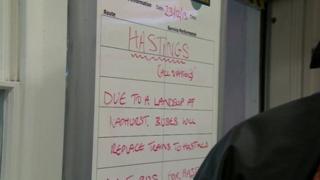 Hundreds of season ticket holders affected by closures on a railway line between East Sussex and Kent are being given £50 vouchers.
Southeastern said the Marks and Spencer vouchers were a way of thanking passenger for their patience.
The line between Hastings and Tonbridge has suffered a four-month series of closures because of landslips.
Passengers are calling for compensation to cover part of the cost of their season tickets.
Southeastern said it was encouraging travellers to claim compensation.
"We understand that many factors have contributed to the very poor service, a number of which have been outside of Southeastern's control," said Bob Baker, chairman of Tunbridge Wells and District Rail Travellers Association.
"However, Southeastern, as a customer of Network Rail, will be reimbursed by the track owner so why shouldn't Southeastern do the same for its customers?"
Line still closed
Greg Clark, Conservative MP for Tunbridge Wells, is backing the call for cash payments.
"Getting some underwear is all very well, but I think commuters paying over £4,000 a year for a season ticket would actually like a discount," he said.
Southeastern said the line would remain closed until further notice after more land movements last week.
Replacement buses are running between Battle and Robertsbridge.
On Tuesday, passengers suffered further disruption after three services were cancelled and 31 trains were delayed by five minutes or more.
The company said it did not have a final figure for the cost of issuing vouchers as some ticket holders were still claiming, but it would run into "tens of thousands".
It said if buses or trains were delayed by more than 30 minutes against its emergency timetable, travellers could claim compensation.
"We have been actively encouraging our passengers to claim," it said in a statement.
"For delays of less than 30 minutes, passengers are advised to contact our customer service team and all claims are considered on a case-by-case basis."