Cat travels 100 miles from Devon to Bristol on coach fuel tank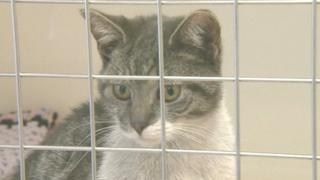 A stowaway cat is recuperating after curling up for a nap underneath a coach and waking up 100 miles away.
It was heard meowing by the National Express coach driver at Bristol bus station, having seemingly climbed on board in Barnstaple, Devon.
It is believed the cat - named Diesel by staff - fell asleep on the warm fuel tank when the vehicle was parked up overnight.
The RSPCA is now trying to locate Diesel's owners in Barnstaple.
The cat found himself on board the 08:45 GMT Westward Ho! to Grimsby service where he was stuck for a four-hour journey across the South West.
He was only discovered when coach driver Andy Muskett was unloading passengers' luggage in Bristol.
On hearing the cat's meowing Mr Muskett called engineer Andy Teagle who crawled under the coach to coax Diesel out.
"I heard a strange noise that was definitely not mechanical and realised that as only one thing meows we probably had a cat incident," he said.
"It was still a bit of a shock to find a silver tabby cat sitting on the fuel tank. When we got him down he was actually pretty contented."
Diesel did not have a collar or microchip so staff took him back to the depot where he was given some food.
RSPCA animal collections officer Julie Parsons said: "We are delighted staff at National Express were able to get Diesel out from such a tricky location.
"When we checked him over we realised he is suffering from some burns and he is currently on antibiotics. Fortunately, he is now recovering well at one of our clinics in Bristol."