Man loses 'injured feelings' legal fight against Thomas Cook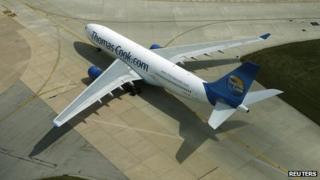 A disabled man subjected to "humiliating" treatment by a travel firm has lost his claim for damages.
Christopher Stott, from Cheshire, complained that on a flight from Greece in 2008 he was seated away from his wife and his wheelchair overturned.
The Supreme Court found the airline treated him in a "humiliating manner", but a legal treaty did not allow damages for "injury to his feelings".
Thomas Cook welcomed the court's decision but apologised to Mr Stott.
Mr Stott asked the Supreme Court to look at his case after losing a case in the Court of Appeal.
Judges heard he had booked flights from East Midlands Airport to Zante and paid specifically to be able to sit next to his wife.
The court heard that on the return flight they were seated apart, his wheelchair overturned and he was left feeling "very embarrassed, humiliated and angry".
'Montreal Convention'
Thomas Cook argued it had made reasonable efforts when dealing with Mr Stott and damages could "only be awarded for harm to passengers in cases of death or bodily injury" under an international legal treaty.
Supreme Court deputy president Lady Hale said that following his treatment it was "hardly less disgraceful" that the law gave him "no redress".
An Equality and Human Rights Commission spokesman said: "Whilst accepting Mr Stott and his wife were treated disgracefully... the court was forced to rule the Montreal Convention, an international framework of rules on air travel, prevents them being awarded damages.
"It said the convention makes no exceptions for fundamental human rights protected by EU member states. This should be addressed by the parties to the convention."
A Thomas Cook spokesman said: "We make every effort to ensure that any customer requesting assistance receives the help they need.
"Whilst we welcome the unanimous decision of the court, we'd like to reiterate our apology."