Fishermen still suffering in aftermath of UK storms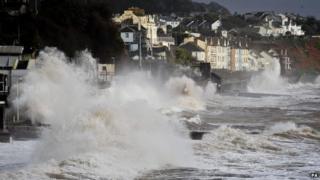 The winter storms that battered much of the UK's coastline have also stopped fishermen heading out to sea to bring in their next catch. Now many families are facing financial hardship and wondering where their next pay day will come from.
As the wife of a shell fisherman, Sarah Bentley-Jones is used to a winter lull in her family's earnings.
Her husband Ian, 37, fishes out of Keyhaven, close to their home in Milford-on-Sea, Hampshire, but extreme weather has meant he has hardly spent any time at sea for months.
"Normally after Christmas they'd go straight back out but the weather hasn't been great and although we put provisions aside we'd got through those even before Christmas," Sarah, 41, said.
"We didn't know how we were going to pay our rent. We'd already borrowed money from family so we couldn't go back to them either.
"Both our overdrafts and credit cards are up to the limit."
Sarah and Ian, who have a one-year-old son, are extremely grateful for the "absolutely brilliant" support of the Fishermen's Mission, which has appealed for donations and helped families pay essential bills.
David Dickens, chief executive of the mission, said the appeal was concentrated on the "basic welfare needs" of fishermen and their families.
"There have been distressing stories of people living without central heating or hot water and families living on soup and bread because there hasn't been any money coming in for three months," he said.
The hardship, Mr Dickens warns, is likely to be long term.
"It's not a case of the stormy weather has gone away so everything is going to be all right, there are a lot of things that are continuing to impact on the ability to catch fish."
Salt levels of inshore waters have been affected by the amount of freshwater running off saturated land and lots of fish have "hightailed to deeper waters", Mr Dickens said.
"They're driven away by changes in their environment and you have to see if they're going to come back."
On Thursday, Fisheries Minister George Eustice announced the government was releasing funds to contribute towards the cost of lost or damaged equipment such as crab and lobster pots.
Mr Eustice said the support could be worth up to £5,000 for individual fishermen.
Dean Fryer, a fisherman from Aldbeburgh, Suffolk, whose earnings were hit by the tidal surge before Christmas, welcomed the announcement.
"The three months that we lost from fishing, we now have to try and grab back," he said. "This money will definitely be a help."
The concern for the industry, however, is just how long the consequences will be felt.
"There have undoubtedly been some permanent changes driven by shifting gravel and sandbanks," Mr Dickens said.
"But one would expect freshwater run off would lessen in its impact over the next month or so and the fish will find their way home."
John Balls, 55, a shell fisherman who works out of Clovelly, north Devon, on his own 23ft (7m) boat, lost £5,000 worth of equipment during the winter.
He said: "25% of my catching capacity is now long gone. I did my last landing in the week before Christmas. From December onwards we've had gales of wind on top of gales of wind.
"In December I was comfortably in the black in my business account but I've been in my overdraft since the middle of January."
Mr Balls said the fishing industry was not crying out for "charity handouts" but simply wanted to be recognised and offered support in the same way other sectors had been.
The National Federation of Fishermen's Organisations (NFFO) met with ministers and initially secured agreement that fishermen would have access to the government's storm relief fund.
NFFO chief executive Barrie Deas said the strain fishermen were under was unprecedented.
"Fishermen are used to being unable to get to sea for a fair bit of January but not to get to sea until March is a big problem.
"If you just turn the tap off and there's no income at all you can just imagine the stress that puts small businesses under.
"The government's responsibility isn't to subsidise the fishing industry but it does have a responsibility to help it get back on its feet.
"The effects are going to be felt for a long time. Obviously the more support that is given now, the quicker the industry will be able to get back on its own two feet."
In Keyhaven, Ian Bentley-Jones has finally returned to sea this week, but his wife thinks there is a misunderstanding of the volatile nature of the industry.
She said: "I think people think fishermen in general earn good money and if they're the skipper and they own the boat then they do, but for the crew it can be good one week and very poor the next."