Fine summer boosts visitors to outdoor attractions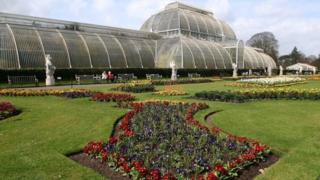 Outdoor tourist attractions saw a big rise in the number of visitors last year, new figures have shown.
Last year's fine summer is credited with places such as Kew Gardens, London Zoo and Stonehenge having many more visitors in 2013 than in 2012.
The figures from the Association of Leading Visitor Attractions showed the British Museum, with numbers up 20% to 6.7 million, was 2013's top attraction.
The government said the boost in visitors was "fantastic news".
The figures showed the main visitor attractions in the UK saw 6% more people last year than in 2012, with outdoor attractions up 8%.
Kew Gardens in west London had 29% more visitors last year, while London Zoo numbers rose 26% and Stonehenge was up 19%.
London attractions had a 12% increase in 2013, with England attractions overall up 5% and Scottish attractions also up 5%.
The second most visited attraction was the National Gallery in London (up 14% to six million) followed by the Natural History Museum in London (up 6.7% to five million).
Other attractions with big increases last year included the Tower of London (up 18% to 2.9 million), the National Maritime Museum at Greenwich in south-east London (up 27% to 1.4 million) and Portsmouth Historic Dockyard, where the opening of the Mary Rose Museum resulted in a 55% increase to more than 674,000.
A total of 67 of the 197 association members' venues had increases of more than 10% last year, compared with only 16 that enjoyed such rises in 2012.