Yorkshire's roads under Tour de France spotlight
By Matt Slater
Tour de France correspondent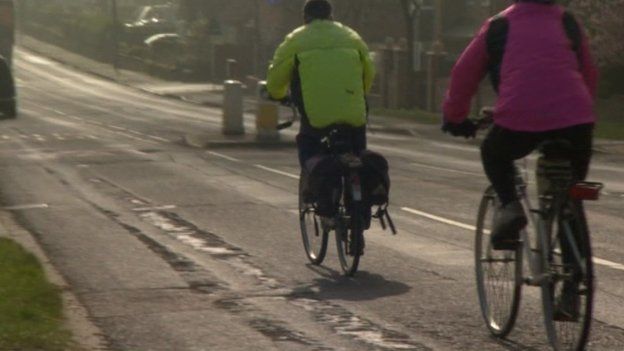 Yorkshire's local authorities have told the BBC it would cost more than £1bn to fix the region's road network and the backlog of repairs would take 11 years to complete.
The region's rutted roads will be under intense scrutiny this year as the Tour de France, the world's biggest cycling race, begins in Leeds on 5 July.
The problem is most acute in North Yorkshire, where the council has recently begged the government for an additional £5m "towards the cost of averting a crisis on the roads".
North Yorkshire County Council is responsible for more than half of the roads used in the Tour's two Yorkshire stages, and it is committed to spending at least £2m on bringing them up to scratch.
A total of eight Yorkshire councils have allocated £4m for repairs to the 241 miles (389km) of roads that the stars of the race will be using this summer.
This is the largest single expense associated with staging the event.
But with no additional money for event-related repairs coming from central government, Yorkshire's councils have had to simply rejig their existing highway maintenance programmes to prioritise roads along the route.
That means key routes around Harrogate, Leeds, Sheffield and York, as well as smaller roads in the Yorkshire Dales and elsewhere, will be resurfaced, but there is the knock-on effect of pushing other roads further down the schedule.
The work is well under way - and some councils have chosen to fix poor roads near the route at the same time - but with new potholes appearing as fast as they are patched, many authorities are struggling to keep up.
"Insufficient funding for maintenance is not a problem unique to North Yorkshire, but I believe we feel the pain particularly badly," wrote council leader John Weighell in a letter to the Transport Secretary Patrick McLoughlin.
"We are vulnerable to extreme weather, and our dispersed population and rural economy make our minor roads particularly important.
"Added to this, the cars, HGVs and agricultural vehicles are getting heavier, and this has increased their impact on these minor roads."
Mr Weighell added that it would cost £332m to clear the council's road maintenance mountain, and even if it was cleared, he would still need £60m a year to keep the roads in good condition.
North Yorkshire, which has the country's third largest road network, currently receives £28m a year from the government for road repairs.
But as Mr Weighell admitted, bad roads are not limited to his patch, and neither are complaints about long-standing underinvestment and more recent cuts.
Peter Box, the leader of Wakefield Council and chairman of the Local Government Association's economy and transport board, told the BBC: "Unless something changes, we risk seeing large swathes of Britain's road network dangerously strewn with potholes and becoming so unsafe they will need to be shut completely."
This stark warning is supported by the Asphalt Industry Alliance's Annual Local Authority Road Maintenance (Alarm) survey, which found in 2013 that one in five roads in England and Wales needs fixing, at a total cost of £10.5bn.
BBC Yorkshire asked the 11 local authorities responsible for the region's roads what they thought it would cost to repair them all, and nine responded.
The total, without Barnsley and Sheffield, came to £1.042bn.
To put that figure into context, it is more than most local authorities spend each year.
It is little wonder, then, that the sorry state of the nation's roads ranks so highly on taxpayers' lists of gripes.
Compensation claims from motorists who damaged their vehicles in potholes topped £32m in England and Wales last year.
The annual National Highways and Transport public satisfaction survey revealed that people rate the condition of the highway to be the most important transport service their local authority provides.
But the state of the roads is also the issue that provides the greatest "performance gap" between importance and satisfaction.
In Sheffield, for example, only 14% of people were satisfied with the city's road surfaces, with 81% dissatisfied. This may explain why the council has recently handed over all of its road maintenance work to private contractor Amey in a £1.2bn private finance initiative.
There is some good news, though, for Yorkshire's hard-pressed road crews: where they have fixed the highway, their work is appreciated.
Triathlon superstars Alistair and Jonathan Brownlee do most of their cycle training on the roads north of Leeds, and they have noticed a Tour dividend.
Olympic and double world triathlon champion Alistair said: "Lots of the roads up here are pretty bad, but it's been fantastic to ride on the roads where the Tour is going.
"Over the last six months, we've seen them putting new tarmac down, and we've enjoyed riding on it."
His younger brother Jonathan agreed.
"You can definitely notice the changes. The roads do need to improve, but it is happening," he said.
And with this year's Tour paying tribute to the 100th anniversary of the start of World War One by visiting the cobbled roads near the Belgian town of Ypres, Yorkshire's roads will definitely not be the bumpiest that the likes of Mark Cavendish and Chris Froome travel down.
Related Internet Links
The BBC is not responsible for the content of external sites.