Dawlish rail line to reopen on 4 April, Network Rail says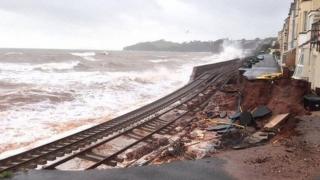 The storm-damaged railway line that connects the South West to the rest of the UK will reopen earlier than planned on 4 April, Network Rail has announced.
The line at Dawlish was wrecked on 4 February, when massive waves left the tracks suspended in mid air.
Ten days later, when new storms caused further damage, Network Rail said the route would remain closed until the middle of April.
The news has been welcomed by business leaders throughout the South West.
Chris Pomfret, chair of Cornwall and Isles of Scilly Local Enterprise Partnership, said it was "very, very good news".
"Dawlish is critical for the rail link to Cornwall and it was critical it opened before Easter," he told BBC News.
"This is now three weeks before Easter - so that's great.
"The managing director of Network Rail said they were working 24 hours a day when we were at the select committee and he hoped to bring it forward. I'm delighted that he has."
'Fantastic progress'
However, Mr Pomfret said there remained the ongoing concerns about "proper" transport links to Cornwall, which could include an alternative rail route which would avoid Dawlish and/or a breakwater to protect the coastal route.
Network Rail said it had always been conscious of the importance of the railway to the South West's economy and teams had been working around the clock.
"Over the last 10 days in particular, we've made fantastic progress and we're happy to say that we can bring forward the opening of Dawlish to Friday 4 April," MD Patrick Hallgate said.
The work at Dawlish had been the most challenging Network Rail had experienced "in years", because of access difficulties and weather conditions, he added.
The announcement means all First Great Western tickets will now be available from 4 April.
Transport Secretary Patrick McLoughlin said the early reopening would be a "real boost" for local communities and businesses.
Having seen the scale of the damage at Dawlish for himself, the minister added, he also wanted to thank Network Rail's staff for their tireless work.