Megan Roberts: River Ouse body is missing York student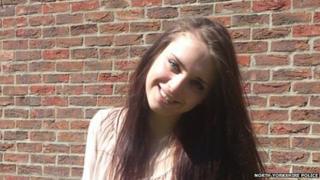 A body found in the River Ouse near York is that of missing student Megan Roberts, North Yorkshire Police have confirmed.
The York St John University student from Wetherby, West Yorkshire, disappeared during a night out drinking with friends in the city in January.
It was feared the 20-year-old fine art student had fallen into the River Ouse near York's Lendal Bridge.
Her body was found on Sunday near the Ship Inn at Acaster Malbis.
Miss Roberts was last seen on 23 January after an evening out with friends. CCTV recorded her on the corner of Rougier Street and Lendal Bridge in York at about 02:20 GMT.
'Loving daughter'
North Yorkshire Police said at the time the most likely explanation for her disappearance was that she had been separated from her friends and - while under the influence of alcohol - had fallen into the river.
The student's mother, Jackie Roberts, said: "We would like to thank the police, fire service, and the public that have been involved in the search for Megan. We would also like to thank everyone who has offered support and comfort during this painful time.
"Megan was an intelligent, talented and beautiful person whose kindness and sense of humour will be greatly missed by everyone who knew and loved her."
Her father, Jason Roberts, also thanked those involved in the search for his daughter.
He added: "Megan was a wonderful, kind and loving daughter who will be missed by many."
The search for Miss Roberts had involved police underwater diving teams and fire and rescue crews.
Supt Phil Cain, of North Yorkshire Police, said: "This tragedy has touched many people including Megan's friends, fellow students at York St John University and the people of York and we extend our sympathies to them at this time.
"I hope that a small measure of comfort can be taken from the fact that Megan has now been found, albeit in the most tragic of circumstances, putting an end to the uncertainty about where she is and allowing her family and friends to grieve properly for her."
Prof David Fleming, vice-chancellor of York St John University, said his thoughts were with Miss Roberts' family who he described as a "bright, enthusiastic student".
He added: "She showed dedication to her studies and was popular with her fellow students as well as by all staff who met her and had the pleasure of working with her.
"She will be sorely missed by all within the fine arts team and across the wider university community."