M54 closes as motorway bridge demolished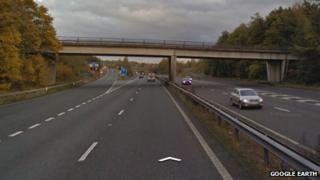 A part of a motorway running through Shropshire and Staffordshire is being closed overnight to allow a bridge to be demolished.
The Highways Agency said the M54 will be closed between junction two for Wolverhampton and junction three for Albrighton.
The closure will last from 22:00 until 0600 GMT, a spokesperson said.
A bridge crossing the motorway will be demolished as part of the work on the i54 business park near Wolverhampton.