William Goad: Did corrupt officer tip off paedophile?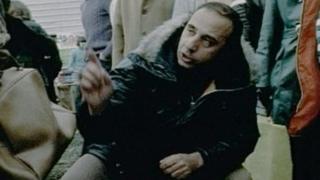 A corrupt police officer may have helped a paedophile evade justice for 20 years, a report has revealed.
William Goad, from Plymouth, Devon, is said to have abused thousands of boys over three decades.
Two investigations in 1987 and 1994 collapsed before Goad was finally jailed in 2004. He died in 2012.
An internal investigation has cited the "suspicious" behaviour of an officer, but said he had died and there was not enough evidence to take further action.
Police 'acquaintances'
Devon and Cornwall Police said the complaint into whether police helped Goad, made by one of his victims, 44-year-old Paul Wyatt, had been "fully investigated".
Mr Wyatt, who has waived his right to anonymity, claimed Goad was tipped off by police "acquaintances" allowing him to "act without prosecution" for years.
The report, seen by the BBC, reveals senior officers also believed their investigations were compromised claiming Goad appeared to be expecting them before his home was searched.
The report also describes an occasion when police were returning property to Goad and he started to mention the names of police officers he knew.
The report cites one officer - whom the BBC has chosen not to name - who was observed visiting Goad's home on a number of occasions, which was under surveillance during the 1987 inquiry.
This officer later asked for information on the case despite not being assigned to it and his "suspicious" behaviour was referred to supervisors.
The report states: "What cannot be evidenced, however, is whether he [the officer who visited Goad's home] was ever spoken to in any capacity about the concerns about him, or if he was spoken to, if he was able to give a suitable explanation for his actions.
"As he died a number of years ago this aspect cannot be progressed further."
The investigation found no evidence that any other officers were seen going to Goad's home.
Complaint 'not upheld'
In a letter to Mr Wyatt, Det Supt Andrew Munday, head of professional standards, said he had come to the view there was insufficient evidence that any other police officer had breached the standards expected of them.
"I have to stress that my decision is based solely on the evidence that was available," he said.
"My findings simply reflect the fact that there is not enough evidence."
The report also contains claims by two senior officers involved in the 2003 investigation, who said they were warned by a senior colleague to "watch their backs" and to "be careful who they spoke to" after Goad was convicted as he "may have had contacts in the police".
Mr Wyatt said he was "happy" with the the investigation which had been "very, very thorough", adding that any officer who tipped Goad off had allowed the paedophile to "keep one step ahead of the police investigation".
'Natural' death
A statement from Devon and Cornwall police said: "The allegations subject of the complaint have been fully investigated by our professional standards department which has involved interviewing both serving and some retired officers.
"However no evidence has been gained to support the allegations and the complaint is not upheld."
At his Plymouth Crown Court trial in 2004, Goad pleaded guilty to 14 specimen counts of serious sexual assault and two counts of indecent assault.
He was jailed for life, and died from natural causes at HMP Albany, on the Isle of Wight, while serving his sentence.