Hastings railway line landslips: Full reopening delayed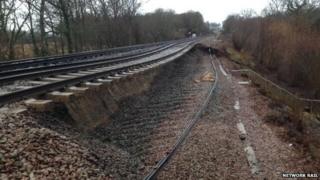 A railway line linking the East Sussex coast, Kent and London will now not reopen fully on Monday, after disruption following several landslips.
Network Rail had expected the line between Hastings and London to be fully open on Monday, although running a reduced timetable.
Southeastern tweeted: "@networkrail needs more time to fix tracks. Disappointing - but work is vital."
Trains on the line were first disrupted following landslides in December.
Southeastern said buses would continue to replace trains between Battle and Wadhurst on Monday.
Stewart Harrington tweeted: "@Se_Railway @networkrail you've had a MONTH to fix this line, total joke from you lot yet again."
'Embankment moving'
Arthur Burgess, chairman of the Hastings and Rye Conservatives also commented on Twitter: "@Se_Railway @networkrail It was a bit rash to make the promise then, dashing everyones hopes."
The line between Hastings and Tonbridge was due to be opened on Monday after more than 10,000 tons of stone was used for the repairs at Stonegate.
There were also landslides at Marley Farm and near Whatlington viaduct.
Nick King, from Network Rail, said the repair of the landslip at Whatlington was due for completion over the weekend but engineers working on the line had seen further movement on the embankment.
He said: "The estimate we have today is that it will reopen next week, but I don't have an exact date.
"The additional pressure of us doing repair work can cause other sites to begin to slip."
Fiona Taylor, from Network Rail, said: "We are sorry for the delay in opening the route and we know how important it is to get people back on trains.
"However, we have to put safety first and in this instance the movement of the landslip means it will not be safe to run trains over it for a few more days."