Hastings to Tonbridge: Call for rail survey after landslips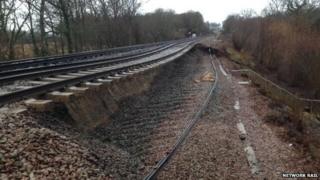 An East Sussex council has called for a full survey of the railway link with London to avoid a repeat of this winter's misery for commuters.
Leader of Hastings council, Jeremy Birch, said travellers needed to know the Hastings-to-Tonbridge section was fit for purpose during extreme weather.
Landslips have disrupted services on the line since before Christmas.
Network Rail accepted it needed to factor the effects of heavy rain into its existing regular surveys.
'Huge disruption'
"We have had seven landslips on the Hastings to Tunbridge Wells line this year alone," said Mr Birch.
"I know this has been the wettest winter since records began, but this has caused huge disruption.
"We need some assurances that we are not going to be here next winter or the winter after.
"We are asking them to carry out a full survey of the line from Hastings northwards, to check every single cutting and every single embankment is it fit for purpose - not just for now but for the next 10 years."
The line is still closed between Wadhurst and Battle while landslips are repaired.
'Taken by surprise'
Tim Robinson, Network Rail's route managing director for Sussex, said points-heating had been installed in the last year and work had been done to protect the power rails from ice and snow.
"We didn't quite foresee the wind and rain on such a constant basis," he said.
"It has taken us by surprise but it is a wake-up call.
"We survey all our infrastructure frequently but what we haven't been doing is surveying the effects on embankments of rain at this level."
He said that if vulnerable embankments were found during routine inspections, they could be stabilised by measures including improved management of vegetation.