HLS animal rights blackmail: Woman denies Shac plot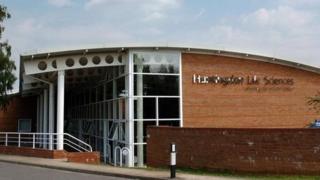 A woman has gone on trial accused of being part of a blackmail plot against customers of an animal testing company.
Debbie Vincent, of Croydon, is accused of conspiring with members of Stop Huntingdon Animal Cruelty (Shac) to target Huntingdon Life Sciences (HLS).
The Hampshire-based group published names of firms linked to HLS, laying them open to violence by activists, Winchester Crown Court heard.
Ms Vincent denies conspiracy to commit blackmail.
'Chillingly basic'
Michael Bowes QC, prosecuting, told the court protesters had targeted suppliers and customers of Cambridge-based HLS, accusing staff members of being paedophiles, sending incendiary devices and hoax bombs, posting sanitary towels claimed to be infected with Aids and causing criminal damage to people's homes and cars.
Mr Bowes said: "The threat was chillingly basic, companies were told they were on the website until you publish your surrender and once you do we will very kindly take you off."
The court heard that Ms Vincent, 52, of Pampisford Road, was a "trusted" member of Shac and an "insider" who worked along the masterminds of the campaign, Greg and Natasha Avery, in Little Moorcote, near Hook.
Mr Bowes said Ms Vincent's involvement, from November 2001 to August 2011, became more substantial following the jailing of the Averys and other members of the group in January 2009.
'Climate of fear'
He described the Shac website as a "veneer of respectability" where suppliers names were published while a second website called Biteback listed the illegal actions carried out.
Mr Bowes said the previous trial of other Shac members had shown direct links between the two websites.
He said: "The campaign was thought to be very successful because it seemed to be working as all they had to do was make these threats, and such was the climate of fear that was engendered because it was always backed up by the nasty stuff, which they pretended wasn't them.
"It got to the position where a mere threat that you would go on the website would be so strong that the company would indeed surrender."
Ms Vincent was arrested in July 2012.
Swiss-born Sven van Hasselt and British woman Natasha Simpkins, who was born in Germany, were arrested in the Netherlands and are still awaiting extradition to the UK to face the same charge.
The case continues.