Durham chief constable advocates free heroin for users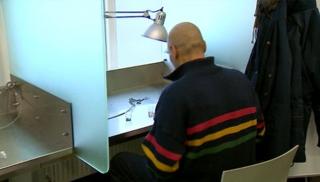 The suggestion that the government should be giving drug addicts free heroin is controversial enough.
The fact it's being made by a serving chief constable is remarkable and guarantees the idea can't simply be dismissed.
Mike Barton, who leads Durham Constabulary, travelled to Copenhagen to see "consumption rooms" where addicts bring their own drugs.
They are supplied with clean needles and a safe environment in which to get their fix.
A nurse is on standby in case of overdose, and by regular contact the aim is to help users get into rehab.
On Inside Out (BBC One North East & Cumbria, Monday, 24 February, 2014 at 19:30 GMT) the chief constable says you can go further than the Danish system and put drug dealers out of business by choking off demand on the streets.
He claims that providing free heroin means users would not have to turn to crime to line the pockets of the dealers.
However, he says it would still be tough love as, in return, users would be expected to sign up to a programme to kick their habit.
Policeman or social worker?
He doesn't expect his idea to be popular and in the programme he meets one of his fiercest critics, Peter Hitchens.
The Mail on Sunday columnist berates Mr Barton for trying to be a social worker rather than a policeman, saying he should pursue possessors.
"Your job is to enforce the law," says Mr Hitchens.
As Mr Barton puts it: "You might not like what I'm saying, but at least let's have a debate about it."
As always, your comments are welcome here on the correspondent blog. Add yours below.
Inside Out is broadcast on Monday, 24 February, 2014 at 19:30 GMT on BBC One in the North East & Cumbria and for seven days afterwards on the BBC iPlayer.