River Severn and River Wye flood warnings removed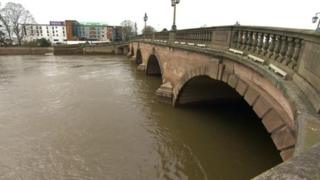 All flood warnings for the River Severn and River Wye have been removed in Worcestershire, Shropshire and Herefordshire.
The only flood alert in the Midlands is on the River Lugg near Leominster but water levels remain high.
A digger was brought in to clear debris from the Severn at Worcester, which included 30ft (9m) trees.
The Environment Agency said incoming heavy rain would stay west of the sources of the Severn and Wye.