Joan Albert murderer Simon Hall found dead in jail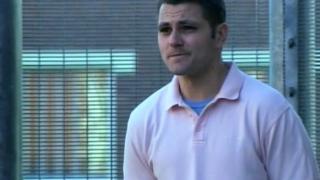 A murderer who spent 12 years denying he had killed a pensioner before admitting his guilt has been found dead in prison.
Simon Hall, 36, was found unconscious earlier by staff at Wayland Prison, near Thetford in Norfolk.
Hall, from Ipswich, was convicted and jailed for life in 2003 after murdering Joan Albert, 79, in her home in Capel St Mary, Suffolk.
He protested his innocence and launched several appeals.
MPs backed his campaign and he appeared in the BBC documentary Rough Justice.
But Hall admitted his guilt to prison authorities last year.
Mrs Albert was found stabbed five times in her hallway in December 2001.
A Prison Service spokesman said: "Simon Hall was found unresponsive in his cell by prison staff at approximately 05:25 GMT.
"Paramedics attended but he was pronounced dead at 05:49.
"As with all deaths in custody, the Independent Prisons and Probation Ombudsman will conduct an investigation."
Suffolk Police said at the time of Hall's admission that the "uncertainty [had] undoubtedly exacerbated the suffering" of Mrs Albert's family.
Hall submitted two applications to the Criminal Cases Review Commission (CCRC) to consider his case.
The CCRC was informed of his prison confession, then contacted him to ask if he wanted to withdraw his claim and his case was closed.