South West Trains reports up to four times more customer contact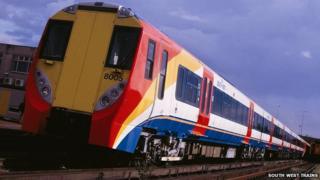 South West Trains (SWT) has received up to four times more customer calls during flood and storm-hit months.
The amount of correspondence has gone from a 2,500 per month average to up to 10,000, the firm said.
About 70 customer service staff in Southampton, including extra temporary staff, are dealing with the high volume of calls.
Passenger Focus chief executive David Sidebottom said customer service was "a problem that needs addressing".
He added: "The top issues raised by passengers contacting Passenger Focus regularly include train delays, refund conditions and levels of compensation."
'Refund problem compounded'
The train operator, the largest commuter service in the country, carries about 210m passengers a year but its services were severely affected by flooded and storm-battered tracks.
Before Christmas the rail network on the Isle of Wight was badly damaged because of flooding and currently the firm is dealing with a landslip on embankments in Botley, Hampshire.
SWT spokesman Steven Stewart said the firm was "dealing with between three and four times the level of customer contact we would normally experience".
He said contact included written correspondence and positive feedback, adding that SWT customer service staff aimed to provide the "best service possible" and would deal with many cases within 20 working days.
Spokesman Tom Condon from TSSA, the union for people in transport and travel, said 70 people was not very high to deal with the extra level of correspondence.
But Mr Stewart said any backlog problems or over-worked staff issues had not been raised with SWT's customer service management.
On Friday the Office of Rail Regulation (ORR) published a report which stated that as many as 75% of those using Britain's railways do not know enough about claiming money back.
In a Which? passenger satisfaction survey South West Trains was ranked 15th lowest out of 18 British train companies investigated.