Hazel Blears, MP for Salford and Eccles, to stand down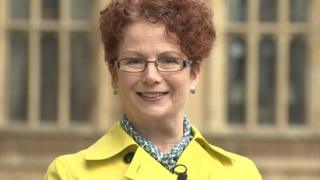 Former government minister Hazel Blears is to step down at the next general election.
The 57-year-old Labour MP, who was elected in 1997, informed her Salford and Eccles constituency members at a meeting earlier.
Ms Blears said she had taken the decision with a "heavy heart".
She added she wanted to "spend more time with her family", including her mother Dorothy, who is suffering from dementia.
In a statement, Ms Blears said: "It is a huge privilege to represent the place where I was born, brought up and have lived all my life, so I have taken this decision with a heavy heart."
Ms Blears, a former Labour Party chairman, entered Parliament as MP for Salford in 1997.
She served in Gordon Brown's cabinet as Secretary of State for Communities and Local Government from 2007 to 2009.
Parliamentary expenses
Ms Blears resigned from the government on the eve of European and local elections and later went on to win the Salford and Eccles seat in 2010 after boundaries were redrawn.
In 2009 she decided to repay £13,332 after it emerged she had not paid capital gains tax on the sale of a property.
Expenses claims leaked to the Daily Telegraph showed the MP had declared her south London as her primary residence for tax purposes but the Commons authorities were told it was her second home, allowing her to claim hundreds in parliamentary expenses.
Although her actions had been within the expenses rules for MPs, they were described as "totally unacceptable" by the then-prime minister.
In her statement announcing her plans to leave Parliament, she highlighted her work securing investment for her constituency.
It mentions her lobbying for the BBC to relocate some of its departments to Salford and her promotion of Clare's Law.
The scheme gives people the right to ask police if their partners have a record of domestic violence and was named after one of her constituents who was murdered by her partner.
Ed Milliband, leader of the Labour Party, tweeted: "Hazel Blears has been a brilliant MP. Always fighting for those in most need. Parliament will miss her."
Paul Wilson, chair of the Salford and Eccles Labour Party, said: "Throughout the last 17 years, Hazel has been an excellent public servant for the city.
"Her relentless drive to serve Salford has delivered a huge number of achievements, most notably helping to improve the living standards and job opportunities in the city."