Police-killer Dale Cregan's mother cleared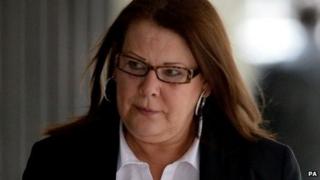 Police-killer Dale Cregan's mother has been cleared of obtaining secret information from a police worker during a manhunt for her son.
Anita Cregan, 56, Kathryn Smith, 25 and Sean Booth, 31 all denied misconduct in a public office between 1 September 2011 and 9 September 2012.
At Manchester Crown Court, Ms Smith, a police call handler, was cleared of looking for and disclosing information.
Mr Booth and Mrs Cregan were cleared of aiding and abetting her to offend.
At the time of the alleged offences, Dale Cregan was on the run from Greater Manchester Police (GMP).
He was being sought in connection with the murders of father and son David and Mark Short and a £50,000 reward was on offer for his arrest.
The prosecution claimed that Ms Smith, of Condor Close, Droylsden, used a police computer system while on duty to check developments in the search for the murderer.
The jury was told she passed the information to her then boyfriend, Mr Booth, who lived on the same street and grew up with Dale Cregan.
In turn, he passed details on to Cregan's mother, the court heard.
On one occasion, one of Cregan's neighbours called police over a suspicious car with camping gear inside, parked near their home causing armed police to swoop on the Cregans' house.
Ms Smith is alleged to have told Mr Booth which neighbour called police.
Anita Cregan, spoke about a "grass on the street", then interrogated the neighbour, claiming she had "inside information" about who made the call.
But she denied ever asking Mr Booth to get information from Ms Smith.
Ms Smith told the jury any information she discussed with Mr Booth was just idle chit-chat while talking about work after her shift and she trusted him not to pass the information on to the Cregans.
She admitted sometimes looking at computer-generated items she did not have authority to, but the court heard the "culture" at GMP was for workers, out of curiosity, to look at details of police incidents where they lived and this was "tolerated" by supervisors.
The daughter of a police inspector with GMP, Ms Smith burst into tears and covered her face as the verdict was given.
Outside court Mrs Cregan, of Sutton Drive, Droylsden, said: "I thank the jury for coming to their decision and it should never have come to court anyway in the first place.
"I feel sorry for Kathryn and Sean, they were only here because they were linked to me and my name is Cregan."
Dale Cregan was given a whole-life sentence in June for the murders of PCs Fiona Bone, 32, and Nicola Hughes, 23.
They were shot dead by the fugitive when he lured them to a house in Hattersley by reporting a fake burglary.
He was also jailed for the murders of David and Mark Short.