A child's eye account of Hartlepool's WW1 bombardment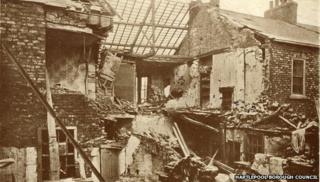 The war was supposed to be over by Christmas, yet less than 10 days before that deadline Hartlepool woke up to German shells destroying their homes.
The terror that coursed through the streets caused panic. The townsfolk loaded up prams with their babies, grabbed whatever provisions they could, and fled into the countryside.
At first, word had gone around that the Germans had actually invaded and were on the beach.
For seven-year-old Violet Muers the memory is of her mother clutching her '"bairns" to her and saying she'd not go "up country. If the Germans are going to kill me I'll be killed in me own home".
First hand account
Violet's father was away at sea in the merchant navy. Until that fateful day they must have thought he was in greater danger than the family back in Hope Street in West Hartlepool.
I had the privilege of interviewing Violet last year for Inside Out (broadcast: Monday, 24 February 2014 at 19:30 GMT on BBC One in the North East & Cumbria).
At the grand age of 106 her memory of those scary childhood days was still pin sharp.
She had marvelled at the bright lights in the sky as a Zeppelin was brought down over Seaton Carew.
As a young child one might imagine she would have been protected from seeing the full horror of the bombardment.
More than 100 people died and more than 450 were wounded in the surprise attack.
Most were women or children.
But looking at images from that time, children were often pictured by the wrecked buildings. It's hard to imagine how shocking those scenes would have been on young minds.
Nevertheless, there were lighter moments, even amongst all that carnage.
Violet laughs as she retells the wonderful tale of her husband's childhood experience during the bombardment.
Abandoned
That morning he had been sent out to the butchers for some bangers.
You could say some very loud bangs did indeed follow.
Three German warships let loose their shells on an unsuspecting Hartlepool.
By the time her husband had got back to his house, the family had run away and abandoned him.
"What did he do?" Violet asked him.
"I had a really good feed!" came the reply. For once the term "making gravy under gunfire" seems just perfect.
As compelling as photographs of that time are, we do need to cherish these personal stories as they paint a much more vivid picture of what people went through on the home front.
As time passes so the chance of hearing these stories first-hand gets ever more remote.
Sadly Violet passed away last year. Through a technology unimaginable back in 1914 we can ensure her story will live on.
For more WWI tales from the Home Front visit the BBC's website dedicated to marking the centenary of the Great War.
Inside Out can be seen on Monday, 24 February, 2014 at 19:30 GMT on BBC One in the North East & Cumbria and for seven days afterwards on the BBC iPlayer.