Why was flooding not as severe in parts of the Midlands?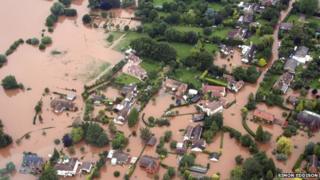 Parts of Worcestershire, Herefordshire and Shropshire seemed not to be as badly affected by flooding as some other places. Was it because flood defence work at these traditionally deluged areas paid off, or were they simply spared the worst of the rain?
Judy Gibson lived in a caravan for two years after her 16th Century Worcestershire village cottage was hit by flooding.
Already a flood victim back in 2000, she said the 2007 devastation put 4ft of water in her Uckinghall property, destroyed windows and a fireplace, brought a ceiling down and left her with rotten beams.
But five years after being able to go back home it is now a different story.
There was no flooding this year. No dash to take precious books, computers and CDs upstairs.
The addition of £750,000 flood defences for the village in 2011 brought "enormous relief" this time, the 60-year-old said.
She added: "You're not thinking of moving things. Even though you're aware the river [Severn] is rising, ultimately you can still make your cocoa and go to bed."
Ms Gibson, who is also chair of Uckinghall Flood Action Group, said the "good work" of the anti-flood projects helped the area this year.
She said: "The Environment Agency have delivered about two dozen new schemes in the Severn catchment [area] since 2007.
"I think we are all more flood savvy frankly. In this area people have made their homes more resilient, fitting flood protection products such as flood gates for the doors.
"Some of the more vulnerable have fitted pumps in their homes on the other side of the flood banks in the village."
Asked if it was the flood defence work that had caused less suffering in these Midlands counties, or if it was because the weather was worse elsewhere, the Environment Agency answered that it was "a bit of both".
West Midlands spokesman Chris Bainger said: "In this area we are relatively used to flooding and have [been] for many years. We have prepared ourselves well or people tend not to build or live in places that flood.
"We don't have as much low-lying land as in the Thames Valley and Somerset. They did get more rainfall on the low-lying areas."
He said the West Midlands had rain from the Welsh mountains which came down through the River Severn from top to bottom, but predicting peaks enabled the agency to manage resources, install defences and warn residents.
'Temporary dam'
The figures now are very different to 2007.
In Worcestershire, 118 properties have flooded this time, compared to 4,700 seven years ago, the agency said.
The Herefordshire number has gone down from 309 in 2007 to 19 this time. Shropshire, in contrast, had "no significant impacts" seven years ago and five properties affected this time, the agency said.
More than £16m has been spent on defences in these counties in recent years.
In Bewdley, an £11m scheme completed in 2006 protects up to 175 properties. The "demountable defences" here involve horizontal beams being added to fixed pillars, the agency said.
Elsewhere in Worcestershire, Upton-upon-Severn's £4.5m scheme, finished in 2012, reduces the risk of flooding for 64 properties. It has a permanent flood wall and horizontal gates - some the size of the width of a road - which close during times of floods.
The £1m Hylton Road flood scheme in Worcester, completed in 2009, includes a 600m permanent flood wall and 15m of demountable barriers when the Severn rises. This protects 13 residential and six commercial properties to a 1% chance of flooding in any one year, the agency said.
Over in Ironbridge the £320,000 scheme completed in 2004 consists of defences "making a temporary dam," defending 20 properties.
Mr Bainger said: "We are used to flooding a little bit more than some areas in the country."
But flooding victim Indy Singh, 36, owner of the Grade II-listed 12-bedroom Severn View Hotel and Vue Bar in Worcester said it could be weeks or months before he reopens.
He said there had been about 4ft of water affecting the bar area and he needed to replace an entire kitchen. He has no insurance for flooding.
Mr Singh claimed the work of some defences installed elsewhere was sending the water to Worcester.
He said: "They do nothing on this side [of the river]. I know it sounds selfish, but if they're going to put one in Bewdley and Upton, why don't they put one here?
"Why don't they put them all the way down to Somerset? Everyone deserves to have it."
Cider fruit farmer Kier Rogers, 41, from the Herefordshire village of Hampton Bishop, said he has had trees under water for at least six weeks and it was "very uncertain" for him.
He said: "I'm pumping water as I speak. I don't know if my trees are going to live."
Mr Rogers said flood defences "probably" had made the difference elsewhere along the Severn, adding: "It's been extremely wet for a long period of time."