Police begin Sheffield Utd-Forest pitch invasion probe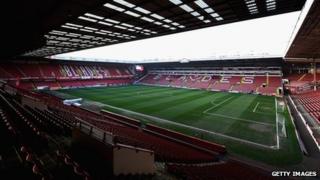 An investigation has started into several pitch invasions at Sunday's FA Cup fifth-round clash between Sheffield United and Nottingham Forest.
Seven people, fans from both sides, were arrested before and after Sheffield's 3-1 win at Bramall Lane.
South Yorkshire Police have appealed for witnesses to come forward.
In a statement, a police spokesperson said: "We are aware of concerns raised regarding the football policing operation on Sunday."
He added: "Equally, we have launched a post-match investigation into those involved in the pitch encroachment and a number of incidents outside of the ground."